So, you're newly engaged and surrounded by all your favourite wedding magazines and your Pinterest board is starting to take shape – if you haven't already been working on it for a few years!
Dreaming about the amazing food you'll eat, how you'll entertain your guests, and the amazing wedding photographs you're going to get? Well look no further, planning your perfect day at Eskmills Venue is like no other! Fall in the love in East Lothian in 2022 with a wedding that is uniquely yours.
Your dream day is only a moment away. Located on the banks of the River Esk in Musselburgh, our stunning contemporary venue with its charming Victorian character is in the heart of East Lothian. Our ceremony room, when adorned with flowers or candles and the fairy lights twinkling in the background, is perfect for both smaller weddings and for those who can't shorten the guestlist! Plus, you can dance into the night with all your guests at a spectacular reception, our venue can be made to fit you and your guests! It really is perfect for weddings of any size in 2022.
The gorgeous space doesn't stop there, with our fabulous Eskmills Eden just waiting to be explored! When the Scottish weather allows, you can hold a stunning ceremony in our gardens – imagine signing the register in the Summerhouse, it's also the perfect spot for your first wedding photographs. Our stunning new pergola is a magical walkway, leading though the trees to a gorgeous swing where you can sit and take in the first few moments as a married couple.  Following the ceremony, let your guests mingle and have some fun in the gardens with reception drinks or games.
Start the day with a dram to settle the nerves. Our bar, which can be opened for a reception before the ceremony and is a perfect place to start the celebrations. We love working with local suppliers of premium spirits to make all your favourite drinks and have a range of incredible non-alcoholic options too! Cocktails or fizz for your reception drinks? Our expert bartenders can create any perfect serve for the big day! We also love a little extra! Let your guests grab a cold one from our Wheelbarrow of Beer, just one of the little extras you can add to your package, alongside Prosecco Walls and pop-up Cocktail Bars.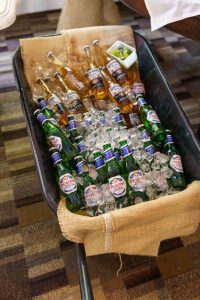 One of the best parts of the wedding planning journey is the tasting! Included in our all-inclusive wedding package is a 3 course wedding breakfast and an evening buffet of delicious hot filled rolls served on our amazing buffet ladder display, so it would only be right that you get to try out some of the incredible food in advance. You'll be invited along to one of our Tasting Experiences where we prepare a selection of seasonal, locally sourced dishes, so you can taste just how amazing your day is going to be. Plus, our menus can be completely bespoke, depending on what you and your loved ones envisage for the big day.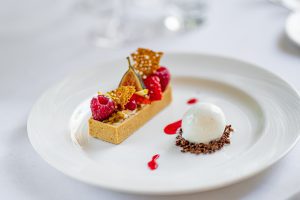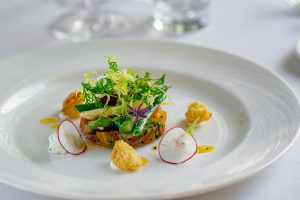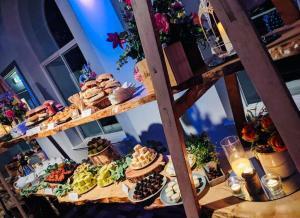 New to the venue, our romantic retreat room is the perfect spot to get ready before the ceremony with some your wedding party. Enjoy a glass of fizz and perfect your makeup and hair. You could even use it as a haven to take in the first few moments alone as a married couple.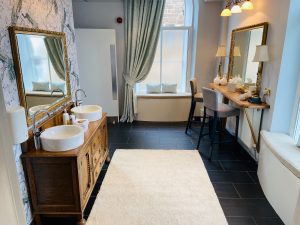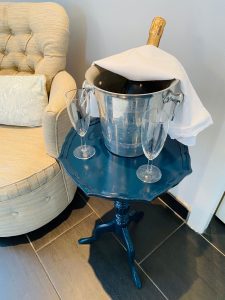 The little ones can have a ball too! with our amazing Kid's Zone. A safe and fun enclosed space for the kids to relax and play. There's plenty to keep the little ones entertained,and with our VVIP Kids package a you get a certified nanny to look after them, ensuring they have just as much fun as all the adults!
What's more, catering for kids is something we love to do! Your little ones can tuck into our Sweet and Savoury Afternoon Tea for the wedding breakfast – a feast of mini sandwiches, crudites and cakes, all served on child-friendly crockery.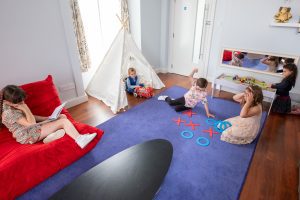 We are experts at planning show-stopping events in East Lothian.
Our all-inclusive wedding packages are clear and transparent and come with our expert planners on hand to help you every step of the way.
We have limited dates available for 2022, so get in touch with our expert wedding planners today and start planning your big day.