On February 4th we are hosting a very special wedding indeed. Sarah and Greg won their wedding with us back in May 2020 following our competition for NHS workers at the height of the pandemic.
Living in Edinburgh, Greg and Sarah are both nurses at Edinburgh's Royal Infirmary, Greg in the Medical Admissions Unit and Sarah in the Neonatal Unit. Working tirelessly throughout the pandemic and having not yet set a venue for their big day, they were the perfect contestants in our NHS wedding competition.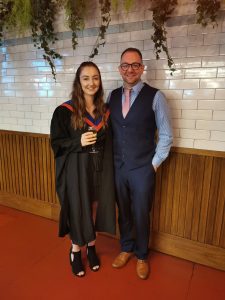 Greg's mum was on the ball, encouraging Sarah to enter the competition but it wasn't until just a few days before the competition closed that Sarah thought she should finally do as her future mother-in-law had been encouraging– never imagining she would actually win!
But let's rewind a little to where Greg proposed! He got down on one knee and popped the question on the last day of their trip to Venice on the 12th of March 2019. Sarah knew he had bought the ring but had no idea he would propose on the trip, and they excitedly told all their family and friends when they returned!
Receiving the call from our expert wedding planner, Lianne, she was in complete shock. She phoned Greg who was at work, and he was lost for words! Needless to say, their friends and family were even more excited for them when they revealed they were the winners.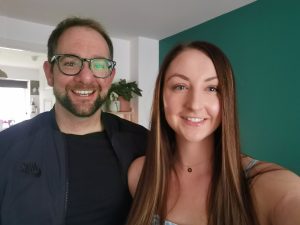 Neither Greg nor Sarah had ever been to Eskmills Venue but had heard about it through friends. For Sarah, on visiting, the venue sparkled, and she could see the perfect day being mapped out before them. As well as enjoying the open, flexible spaces indoors, they were bowled over by the menu choices too.
When it comes to wedding planning, Sarah's got everything in hand!  We teamed up with some of our favourite suppliers as part of the competition too, and Sarah has enjoyed working with the amazing Tony Marsh Photography, the fantastic GD Bagpiping, Liberty Blooms and 2Flux Stationary Studio just to name a few!
All that remains to organise is their wedding rings – oh, and some slight alterations to Sarah's dress following their lovely news that they will be welcoming a baby in May 2022!
They are hoping that their cocker spaniel may make an appearance on the day for some photos – Eskmills Eden being the perfect place for a pic with your pooch! After a long two years they are looking forward to gathering their family and friends together to celebrate. And once Greg has got his speech out the way, he'll really relax!
Rather than having a traditional top table, Sarah & Greg will be sitting at their own table of two, meaning all their family and guests will be able to mingle together and they will be able to spend their wedding breakfast as Mr and Mrs.
When asked what advice they would give to future couples, they said, just go for it. Keep in mind that the day is about you both as a couple and no one else, do what you want to do and don't let anyone pressure you into things you don't want! Stellar advice, we think!